February 16, 2022
Posted by:

MasterAdmin

Category:

Cryptocurrency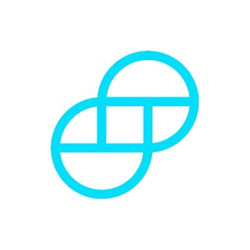 Gemini is a crypto exchange offering a $150 bonus in Bitcoin if you open a new account and invest $1,000+ in crypto within the first 30 days. Stablecoins including Gemini dollar (GUSD) count as well. Use the promo link found in this Motley Fool review. That is not my affiliate link, as the referral bonus is a smaller $10 free Bitcoin after a $100 trade.
Gemini is one of the more established crypto sites, and is one of the few constituent exchanges used to set the "official" BTC price for Bitcoin futures on the Chicago Mercantile Exchange. The list includes Bitstamp, Coinbase, Gemini, itBit, and Kraken.
My promo experience. One of the easier ones. I was able to open an account, fund it, buy $1,000 GUSD, and receive the $150 BTC bonus all within 24 hours. Gemini also offers both a web browser and smartphone app interface. Here is a screenshot of my $1,000 GUSD and $150 BTC: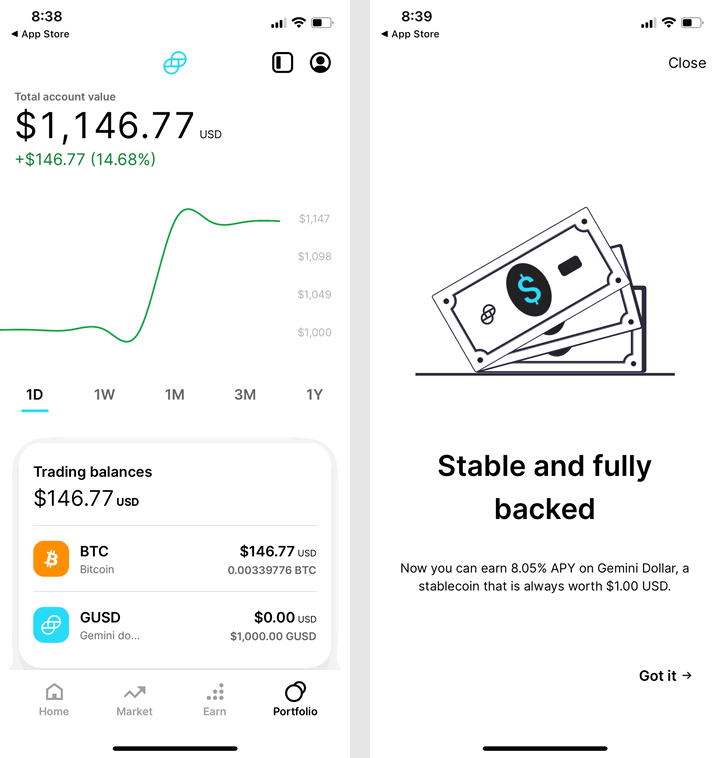 Here were the overall steps:
Use the promo link above to start your application as a new customer. You may need to submit a driver's license photo.
Link a bank account via Plaid.
Fund you Gemini account via ACH. The daily max is $1,000, so you're good.
Purchase $1,000 in crypto. The most conservative choice is GUSD, which is a stablecoin that is (supposed to be) backed 1:1 with US dollars and trades at a stable $1.00 value.
This should trigger the bonus, which arrived within 24 hours for me. You get $150 in Bitcoin, which can quickly go up or down in value.
I have kept my BTC for now, but you can sell it for USD if you want. There are some transaction fees, roughly $3 for a $150 trade with the basic trading structure but possibly less with their ActiveTrader option.
If you don't feel comfortable owning cryptocurrencies, you'll probably want to sell and withdraw. You may need to verify your identity with a driver's license photo to make withdrawals. I don't view stablecoins held in a crypto start-up as the equivalent as US dollars held an FDIC-insured bank, but I am comfortable with leaving some money in Gemini while I explore the app and Gemini Earn.
Gemini Earn is an optional program where you let Gemini lend out your crypto and they pay you a cut of the interest charged. As of 2/14/2022, Gemini Earn currently pays 8.05% interest in GUSD balances, 7.99% APY on USDC, 1.26% on ETH, and 1.01% interest in BTC balances. They don't support Tether, which I actually view as a positive sign.
Again, you are relying on Gemini to properly loan out your crypto, maintain collateral, charge interest, stay in business overall, and so on. I've covered this before, but essentially crypto needs "real dollars" for the ecosystem to work, and they don't have access to traditional sources like the Federal Reserve. So instead, they have to pay for access to that cash. I view stablecoin interest accounts as a speculative investment with its own unique set of risks that you compare with the interest paid. I would compare it to the 7% yield I get from PeerStreet real-estate backed loans (which has its own risks including poor liquidity), as opposed to an FDIC-insured bank account. You have to decide if the interest they pay is worth the risk. I find it both fun and educational to invest a very small percentage of my portfolio in certain such things.
Here are a few competitors with slightly higher rates that I have also invested small amounts with: BlockFi Interest Account currently pays 8.75% APY on stablecoin balances up to $20,000 (USDC, GUSD, USDT) and 4.5% APY on up to 0.10 BTC. Voyager Earn currently pays 9% APY on USDC and 5% APY on BTC.
"The editorial content here is not provided by any of the companies mentioned, and has not been reviewed, approved or otherwise endorsed by any of these entities. Opinions expressed here are the author's alone. This email may contain links through which we are compensated when you click on or are approved for offers."
Gemini Exchange: $150 Bitcoin Bonus with $1,000 Crypto Purchase (Includes Stablecoins) from My Money Blog.
Copyright © 2004-2021 MyMoneyBlog.com. All Rights Reserved. Do not re-syndicate without permission.