February 12, 2022
Posted by:

MasterAdmin

Category:

Blockchain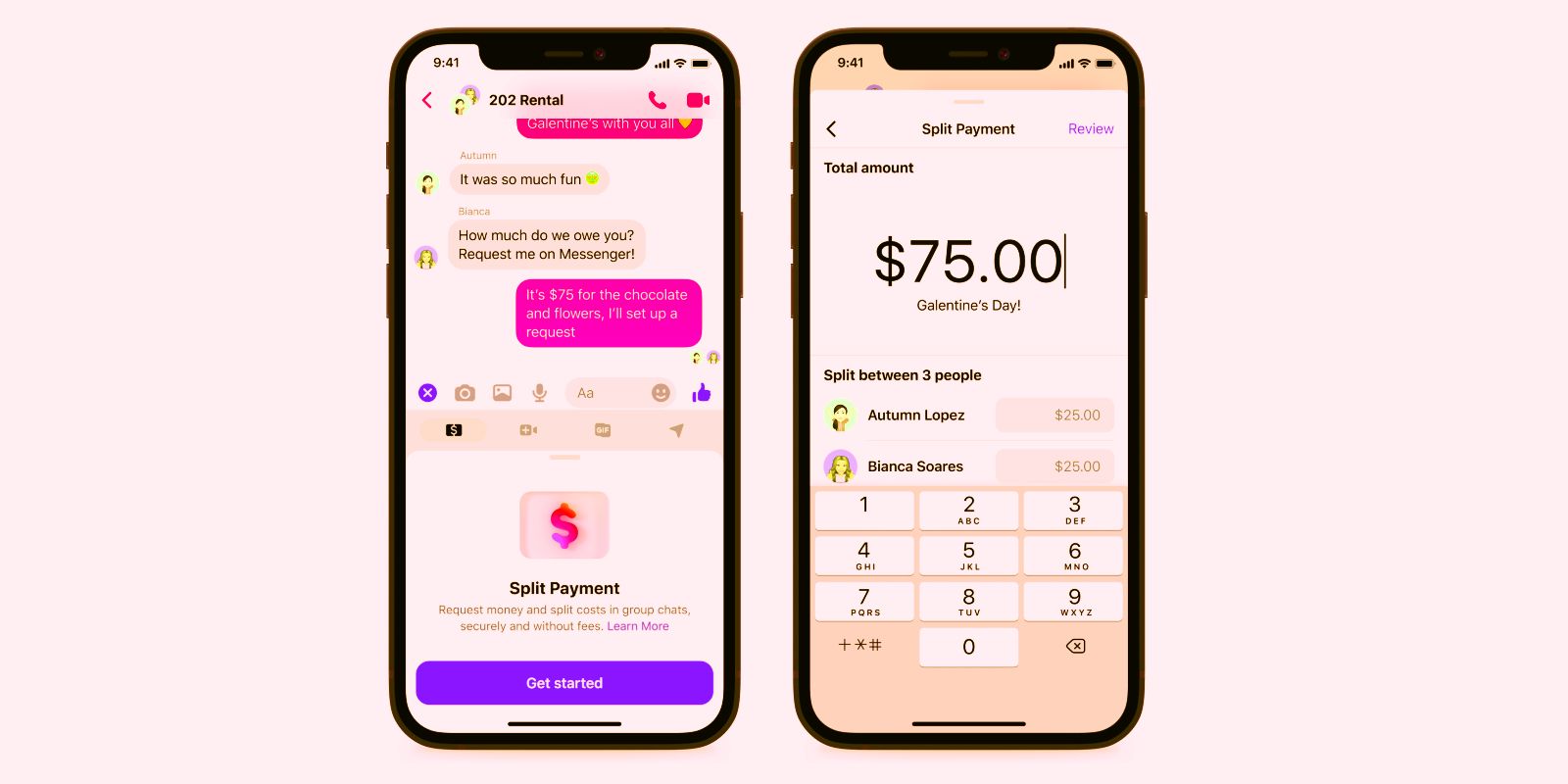 Facebook Messenger has added a new payments feature that allows users to split a bill among friends by sending a direct request in the messaging app. The platform first started testing the built-in bill splitting feature in December last year, presenting itself as a neat tool for everything from sharing food bills at restaurants to quickly managing living expenses with roommates.
The bill-sharing requests are sent in the chat itself, and there is also an option to tag it along with a personalized message with it. The app already offered a QR code tool for person-to-person payments, but generating one for each person's contribution and then sharing it has been a hassle. Well, it appears that the tests are finally over and bill-splitting in Messenger is finally read for prime time.
Related: How To Use Or Disable Facebook Messenger In VR With Meta Quest
In order to divide a bill and send a payment notification, users need to tap on the Get Started option designated by the '+' in a group chat or access the Payments hub in Messenger's Settings section. Once there, users have to enter the amount and select the Messenger friends that they want to share the bill with. Users can choose to split the bill evenly or modify the amount on a per-person basis. Once the payment information and personalized message have been entered, users will need to confirm their Facebook Pay details before the payment notification is sent to all involved parties. The notification is visible in the group chat and also shows the progress of how many people have transferred their share of the total amount.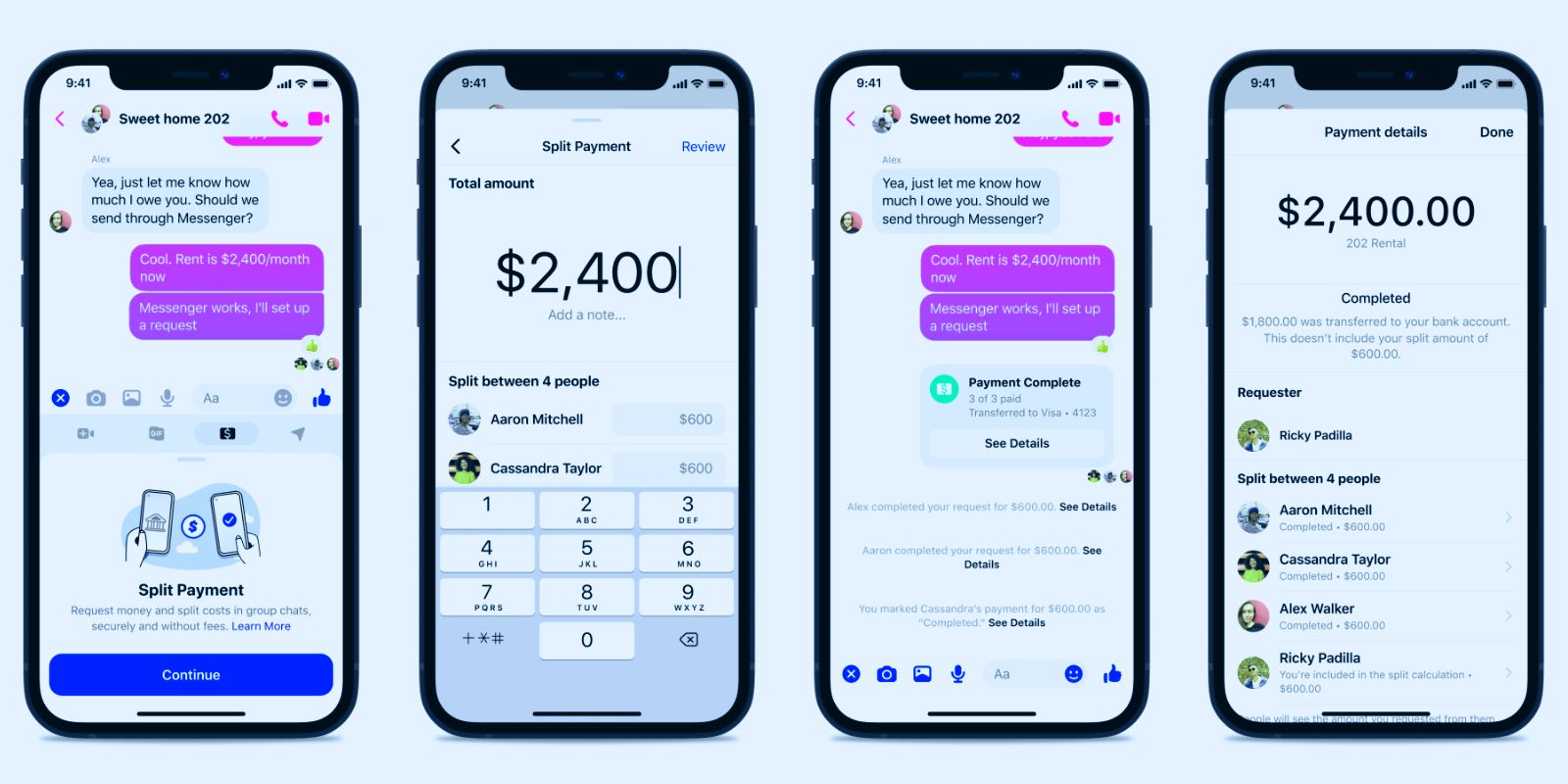 As mentioned above, the bill splitting feature is tied to Facebook Pay. To set up Facebook Pay in Messenger, tap on the Profile icon and select Payments. Once there, users can enter their payment information, which can include debit/credit card or PayPal details. Facebook assures that all the payment information is encrypted for the sake of privacy and an anti-fraud monitoring system has also been put in place to look for shady unauthorized activities. And as an added layer of security, users are asked to add a PIN or rely on their phone's biometric authentication systems like a fingerprint scanner or Face ID in order to send or receive payments.
Yet again, Facebook — which now goes by the name Meta — assures that it doesn't store user's biometric information. In addition to Facebook and Messenger, Facebook Pay is also accessible on Instagram and WhatsApp, but availability varies from region to region. More importantly, Facebook doesn't charge a fee to process payments, which is a huge advantage over rival services like PayPal. However, the service is not related to the Novi wallet, which in turn is tied to Facebook's doomed cryptocurrency plans. In addition to making peer-to-peer payments, the company is now allowing also businesses to put a dedicated Facebook Pay button on their online storefronts, facilitating easy payments via Facebook's social media and instant messaging apps.
Next: How To Unsend Messages On Facebook Messenger
Source: Meta